During the Autumn season Mother Nature blesses us with beautiful weather, enjoyable outdoor activities and magnificent colors that fill the landscape. Mother Nature, however, can quickly change bringing with it freezing temperatures, howling winds and that white stuff every Minnesota resident loves, snow.
Snow removal can create challenges for all homeowners, whether you live in a residential area or own acreage outside of town. Homeowners around the country are choosing compact tractors for their snow removal maintenance. Compact Utility Tractors, when set up with the proper snow removal attachments, can be a highly effective tool for any size property. Since every homeowner's property is different choosing the right attachments can make a big difference in tackling winter snow removal. Luckily, John Deere and Frontier have a wide range of attachments available to meet your needs.

Front Blade Attachment
Loader Mounted Blade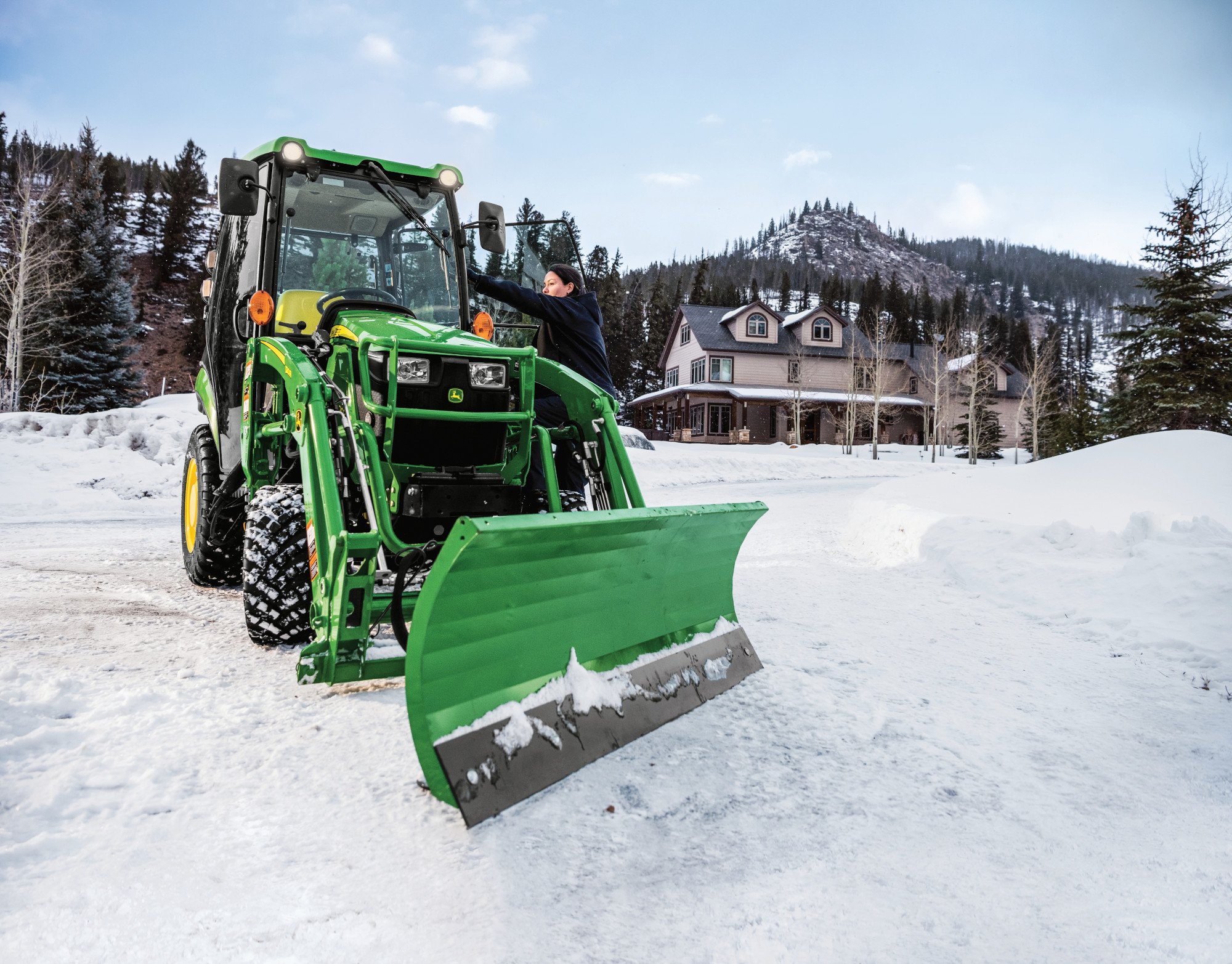 Front Blades are one of the most popular snow removal attachments because they are efficient, easy to operate, and can used for several other projects all season long. Some front blades, like the Frontier AF11E Series, mount on the front of your loader in place of your bucket and offer either hydraulic or manual angle. The curved blade edges roll snow rather than pushing it for smoother, easier moving. An optional rubber edge is also available which can reduce impact on driveways.
"Customers who switch loader implements regularly enjoy loader mounted blades. Switching back to your bucket or pallet forks takes only 30 seconds and allows you to continue to use your tractor for other projects. - Gregg Roelike, Midwest Machinery Co. CP Manager
Front Quick Hitch Blade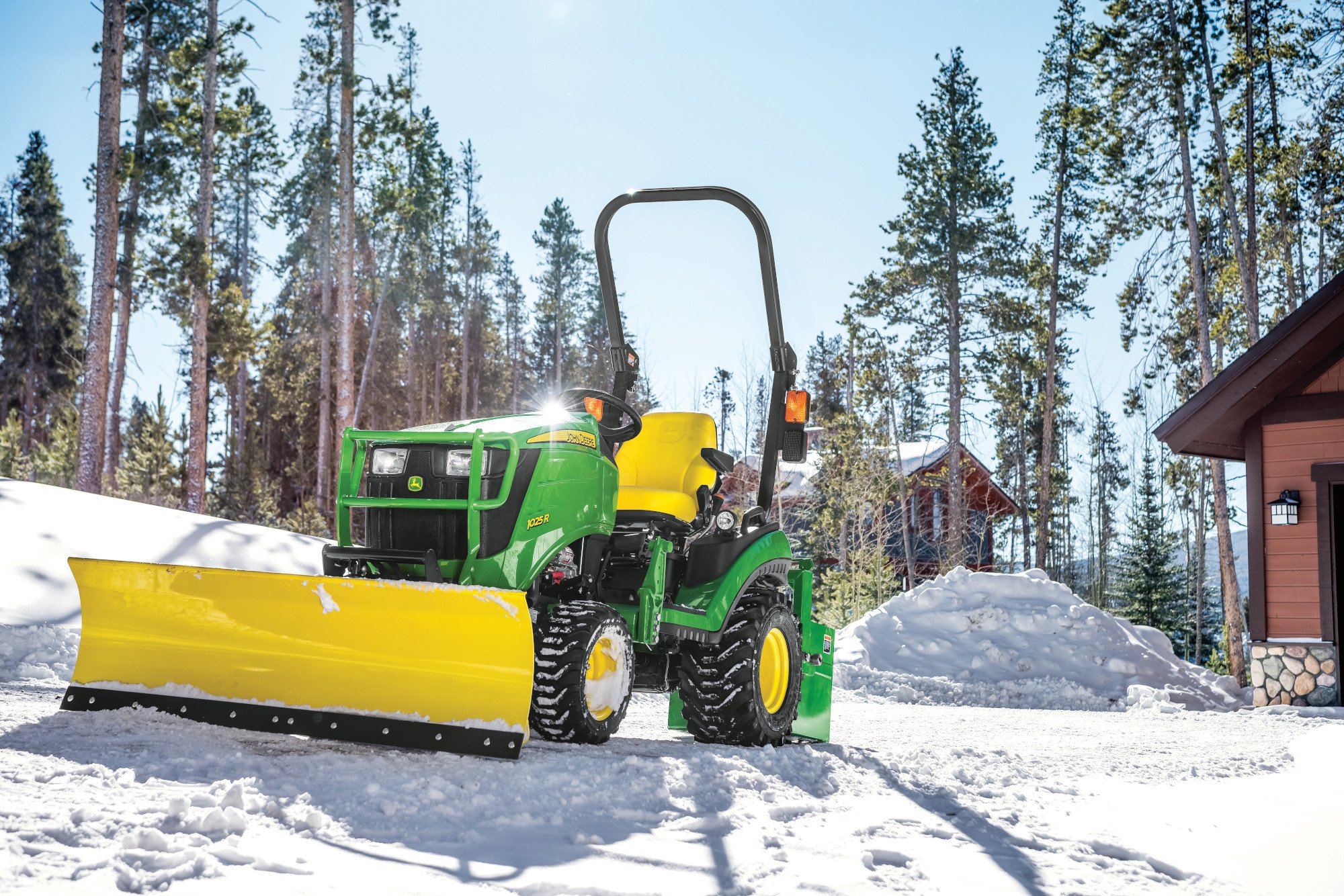 Another front blade option, popular in the smaller size Compact Utility Tractors like the John Deere 1 Series, is a 60" front quick hitch blade. The quick hitch style requires you to remove your loader, if you have one, and attach the quick hitch mounting system with two snap pins. With no tools or loose parts required, attaching the quick hitch mounting system is easier than you might think. The blade is angled, raised, and lowered by the tractors hydraulic system. Front blades (both loader mounted and quick-hitch style) are ideal for clearing residential areas in a quick efficient manner.
Snow Pusher Attachment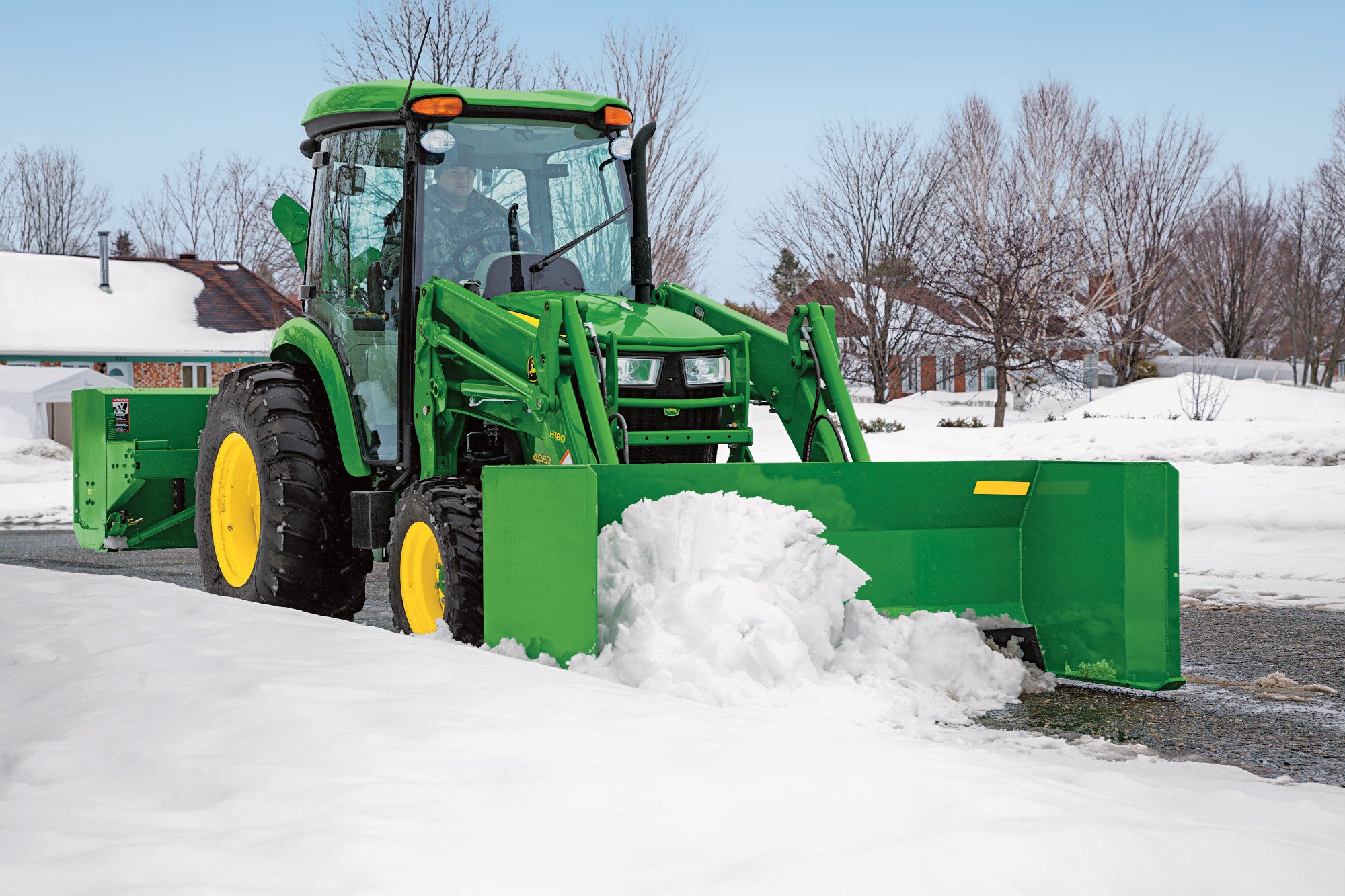 Snow pushers are different from a front blade because of the end plates that keep in the snow from going outside of the pusher. Snow pushers attach to your loader in place of the bucket and are ideal for clearing large areas and hard to reach places. The optional pull-back kit is available on the AS10F Series and can reach snow other blades cannot (such as snow close to a garage, retaining wall and curbs). Because they are designed to push large amounts of wet heavy snow this is a popular option in larger sized tractors like the John Deere 4 Series.
Snow Blower Attachment


Front Mounted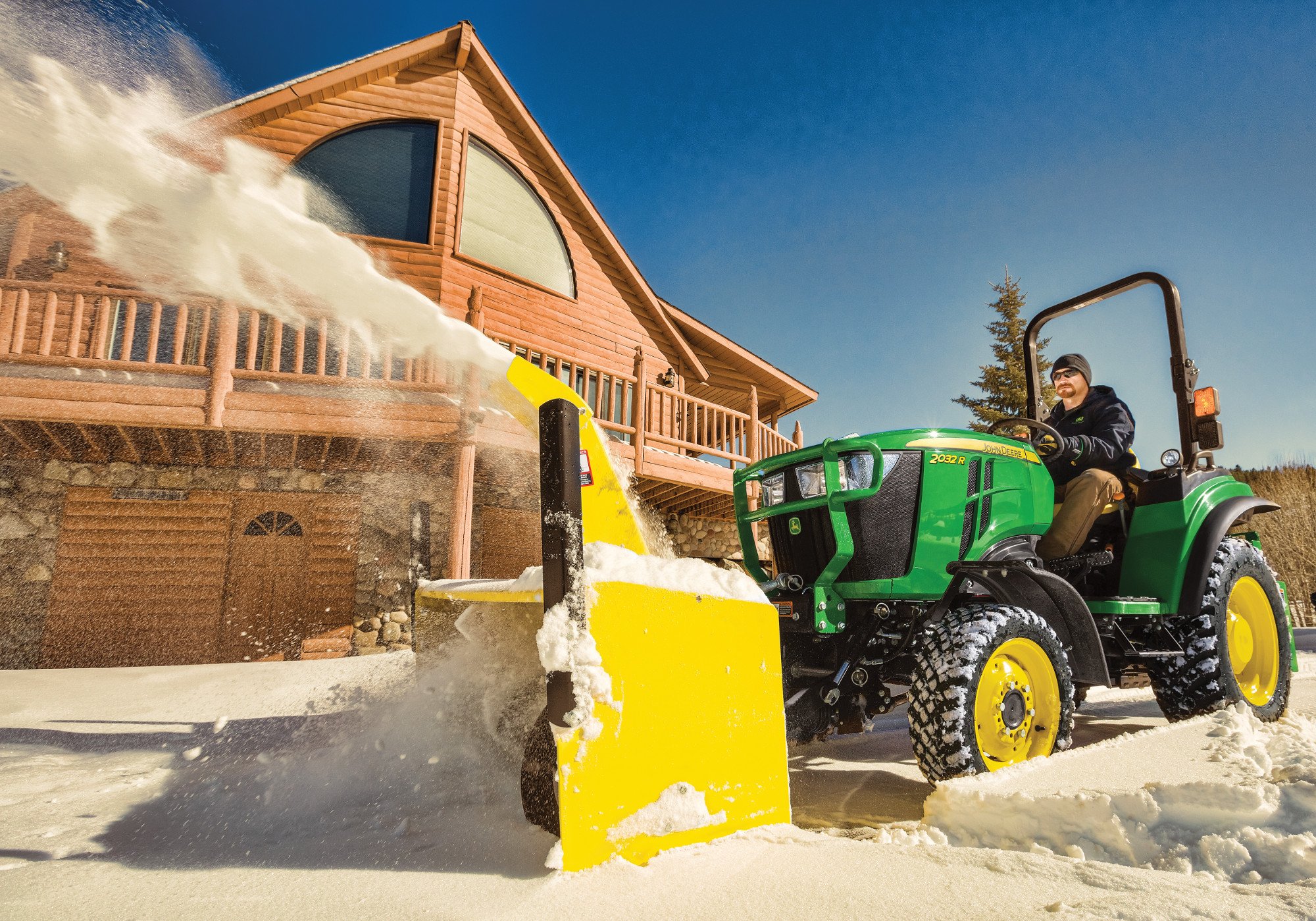 Front mounted snow blowers are our most popular snow removal attachment for Compact Utility Tractors. They are powered by your tractors mid-PTO and are great for throwing snow away from your property. It is raised and lower by the same quick-hitch mounting system as the 60" front blade and the chute hydraulically rotates - making it easy to direct snow to a desired location. Front mount snow blowers are ideal for homeowners with long driveways and that have room to throw snow out of the way. Your tractor must be equipment with a mid-PTO in order to run a front mounted snow blower.
If you have questions on your tractors compatibility for a front mounted snow blower you can contact your local Midwest Machinery Sales Department for more information.
Rear Mounted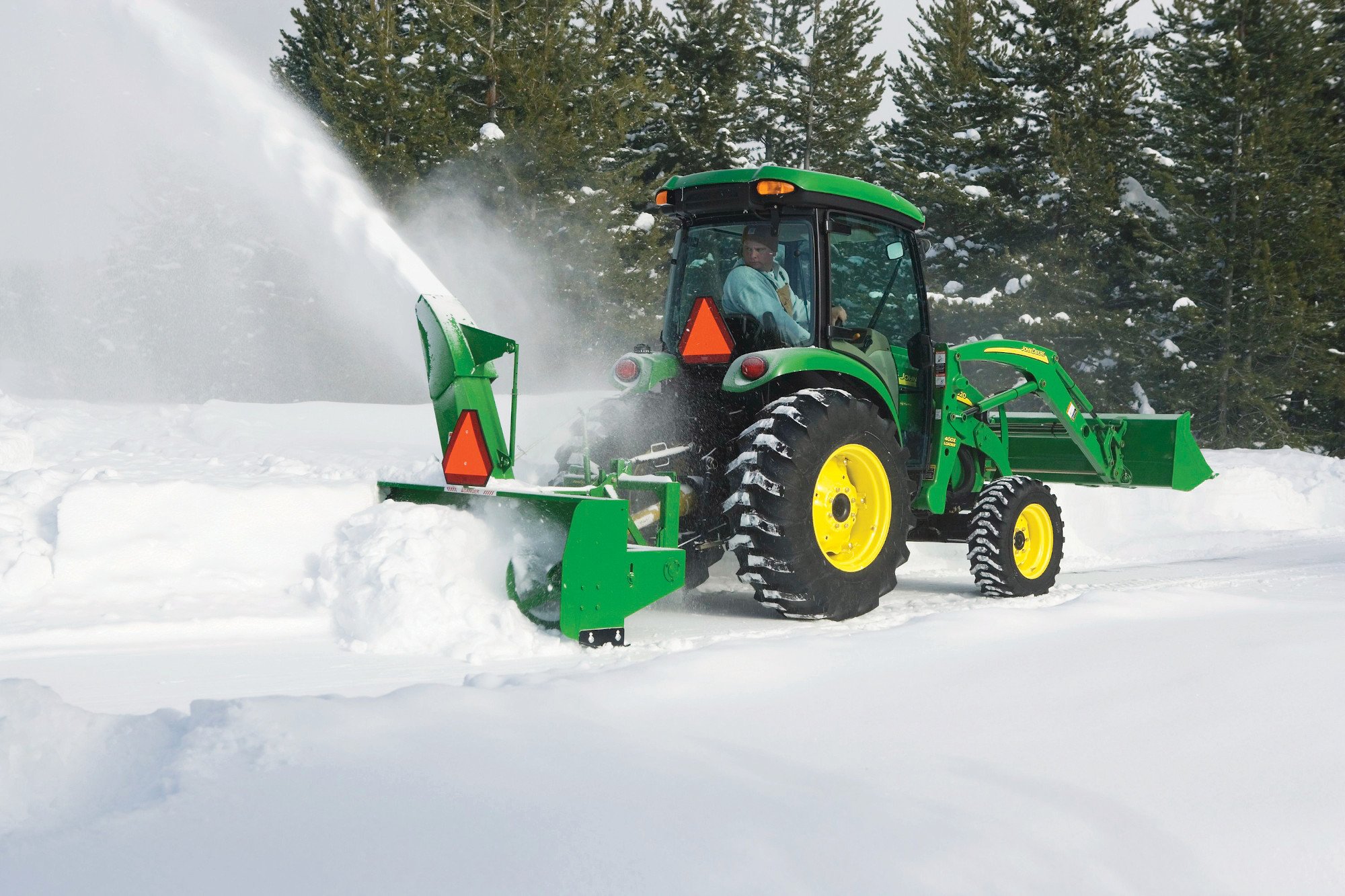 Rear mounted snow blowers run off your tractors rear PTO and are raised and lowered by the 3-point hitch. Most models like the Frontier SB1154 offer either a manual or hydraulic chute deflector which improves accuracy of the snow being discharged. These types of snow blower are popular with the John Deere 3E Series tractors and are available in larger widths compared to the front mounted option. Rear mount blowers are a great choice for someone who has issues with drifting snow, or for moving a large volume of snow out of an area.
"Although front mounted snow blowers are more popular, rear mounted snow blowers offer you more versatility because you can run other attachments in the front of your tractor. A lot of customers use a front blade for lighter snow and then use the rear mounted blower for the heavier snow."-Gregg Roelike, Midwest Machinery Co. CP Manager
Loader and Bucket Attachment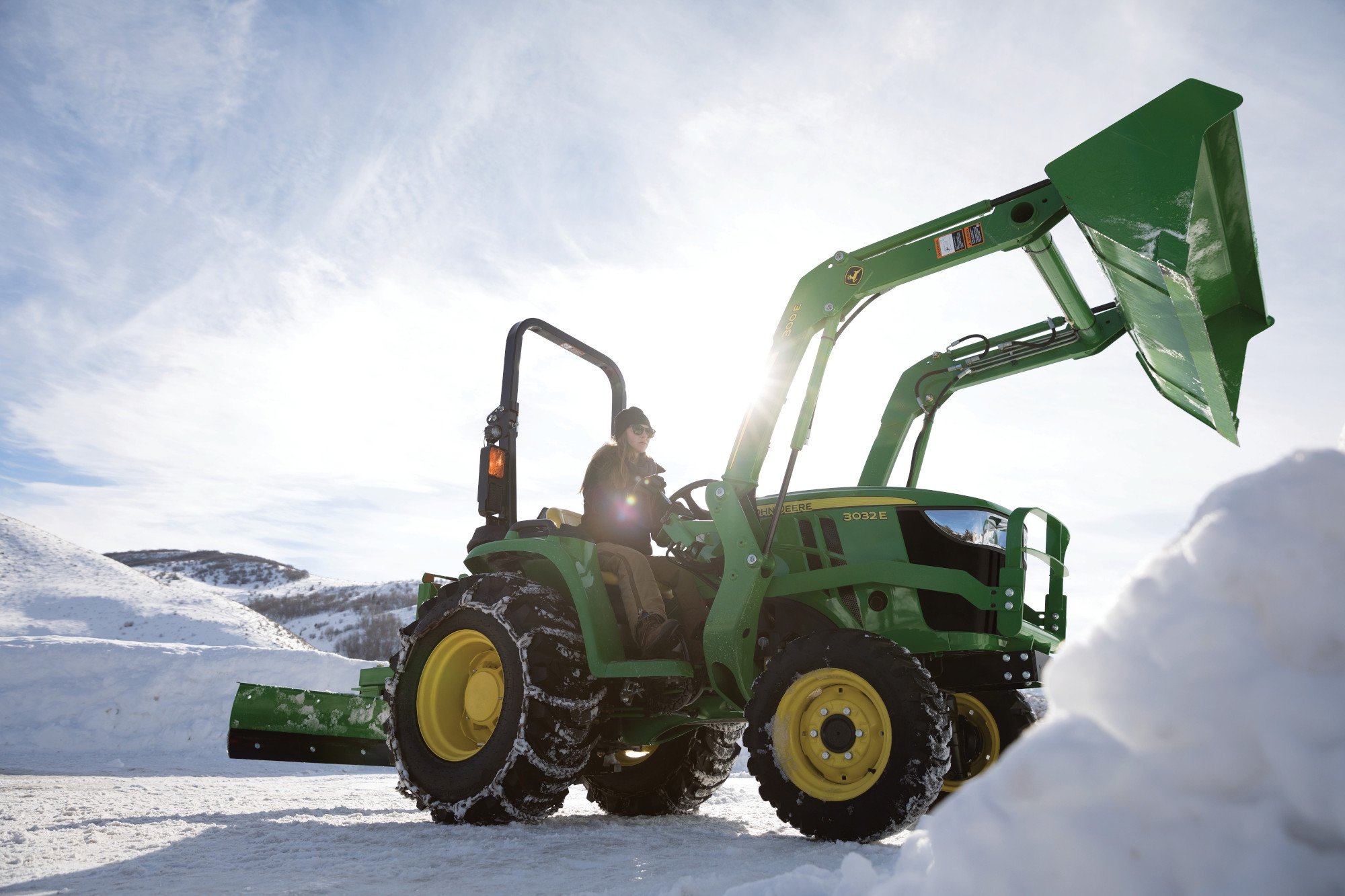 Lastly, your loader and bucket on your Compact Utility Tractor is another attachment you can use for your properties snow removal needs. Over 85% of the Compact Utility Tractors purchases at Midwest Machinery include add-on loader and bucket implements. This is a great way to move existing piles of snow but can be less effective moving snow like a front blade or snow pusher would be.
Other secondary attachments
Frontier SB1136 Broadcast Spreader
Engine Block Heater
Cab/Weather enclosures
Wheel Weights/Ballast Box
Tires Chains
Rotary Broom
Snow Removal is something that living in Minnesota homeowners are always going to have to deal with. Compact Utility Tractors when equipped with the proper snow removal attachments can be perfect solution for both residential and rural acreage snow removal projects.
Interested in learning more about Compact Utility Tractor snow removal capabilities?