In the past 10 years, compact utility tractors have increased in popularity. The 1-4 series John Deere compact utility tractors offer versatility and a wide variety of customization options, attachments and implements depending on the work you want your compact tractor to be capable of handling.
With over 20 different models available, having such a wide selection can make it difficult to purchase if you're not sure exactly which compact tractor is right for you.
Learn what you can expect from each of these compact utility tractor models in this article.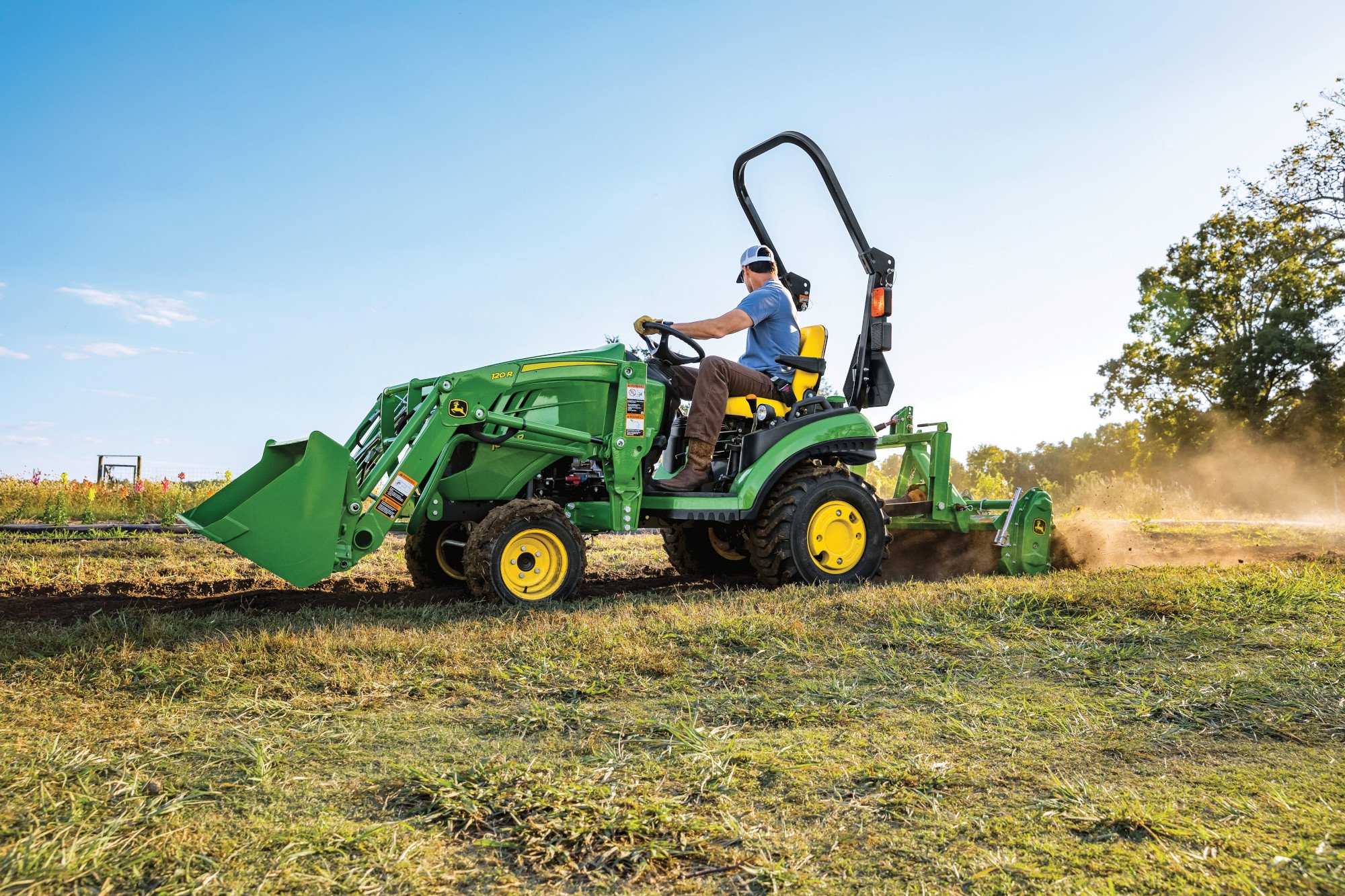 The John Deere 1 Series Compact Utility Tractor can handle garden tilling, snow removal, mowing and much more. With industry-exclusive attachments like the Quick-Park™ loader mounting system, you can easily remove or mount the loader on your tractor without any tools. The AutoConnect™ drive-over mower deck™ make switching from moving dirt to mowing grass possible in just over two minutes.
With two models to choose from, the 1023E and 1025R may look similar in frame and overall size, but the 1025R has some upgraded features that make it our most popular selling compact utility tractor.
Key Features of the 1023E and 1025R:
Engine size is notably different with the 1025R where you get an additional 2.5HP allowing you to run bigger implements like a tiller or rear blade.
New in 2020 is a mechanical-self leveling loader option. This feature allows users to keep the loader level throughout the lift. This not only reduces the potential for loaded material from falling but also increases your loaders lifting capacity by 25%.
A third function kit option allows operators to add attachments like a grapple or 4-in-1 bucket. Grapples are very popular with our customers in Minnesota. This attachment makes cleaning up brush and debris a simple task.
The 1025R comes standard with 3-point depth control. This allows you to set your 3-point implements at a specific height. Where the 1023E only allows for an up/down setting, this is beneficial when running ground-engaging implements like tillers and box blades. With the 1025R you can set your 3-point rockshaft control to the right height to avoid jerking and allows you to adjust accurately to the unique terrain you are working with.
Enhanced comfort features in the 1025R offer more cushion in the seat and armrest, rubber floor mat, and cruise control.
Fender-mounted work lights are standard on the 1025R making snow removal at night easier.
"Customers who are buying this series tractor are typically first-time buyers who own up to 5 acres or live in a residential area. You can do just about anything with these tractors - mow your grass in the summer, blow snow in the winter and tackle your home improvement to-do list."
-Chris Butzer Midwest Machinery Sales Member Baxter, MN
John Deere's 2 Series Compact Utility Tractors have been called "The Ultimate Mini Landscaper". Like the 1 Series, they offer attachments like the AutoConnect™ Mower Deck and Quick-Park™ Loader, along with 200 other attachments to tackle any project you can think of. They are great for landscaping projects, maintaining your property's rough terrain, and working up gardens or food plots. Choose from either the 2025R, 2032R, or the 2038R with engine sizes from 25hp-38hp, each having its own unique features.
Features of the 2025R, 2032R, 2038R
The 2025R has a slightly smaller frame than the 2032R and 2038R models but is larger than the 1025R. The 2025R is ideal for customers who need to be maneuverable around their property. Whether you have trees to mow around or projects in tight areas the 2025R will be more compact allowing you to maneuver around obstacles easier.
The 2025R also has a factory heated cab option, which provides all-season comfort in the elements, unlike the 2032R and 2038R models.
The 2032R and 2038R are 5" longer and 9" wider than the 2025R and weigh about 600lbs heavier. The extra clearance and weight help with stability and traction on the uneven terrain and wet lowland areas that can be found in central Minnesota and western Minnesota.
Deck size options for the 2025R are either 54" or 60" and work great when having to mow in tight spaces. The 2032R/2038R offer 60" and 72" deck sizes and make mowing large areas a time saver.
The eThrottle

command button, when engaged, automatically adjusts engine speed as you press the pedals to provide the right amount of power for the job and helps you save on fuel consumption.
Both the 2032R and 2038R because of their larger engine and frame give operators the ability to run larger implements than the 2025R. Got a food plot for the hunting property you want to put in next Spring? A 2038R will run a 60" tiller whereas a 2025R can only run a 48". Allowing you to be more efficient and effective with your projects.
"The 2 Series line of compact tractors are ideal for properties owners with 5-10 acres. A lot of customers consider these tractors the "do-it-all machine" because they are big enough to handle large projects yet compact enough to maneuver between tight areas around your property."
-Chris Butzer Midwest Machinery Sales Member Baxter, MN
All good things come in threes. This line-up features the new 3D, the economical 3E, and premium 3R models ranging from 25HP-46HP. A higher capacity hydraulic pump, its increased axle strength and a larger frame give the 3 Series extra muscle to complete projects like land clearing, lifting round bales, and moving large truckloads of rock. Each model is similar in size but will come standard with different options and features. Making them ideal for owners with a variety of needs in a compact utility tractor.
Key Features of 3D, 3E and 3R
The 3025D, 3035D, and 3043D are only available with a gear shift transmission and were designed with simplicity and power in mind. John Deere 3D tractors are great for pulling a wagon full of material or for pulling a disc to work up the ground. Their compact size and heavy hauling ability are perfect for large property owners, tree nurseries, orchards, and vineyards.
Unlike the 3D models the 3E and 3R models are both available with the popular hydrostatic transmission option. Hydrostatic transmissions are easier to operate and work great for doing all types of work. Especially jobs that require a lot of stopping and starting like using the loader to move snow piles or filling a dump trailer with gravel. Simply push the forward or reserve pedal for an instant response.
The economical 3025E, 3032E, and 3038E are built with a comfortable operator station and are a great option for those looking strictly for a loader tractor to use with rear attachments. AutoConnect

™

decks and Quick-Park

™

loaders aren't available with the E series models, so these tractors are perfect for hobby farms or hunting property owners looking for a machine without all the bells and whistles.
The 3033R, 3039R, and 3046R models are designed with premium features and extra muscle. A factory cab option with heat, ac, and radio provides operators all-seasons comfort in any environment. A Mid-PTO option allows for popular attachments like an AutoConnect

™

deck or a 59" front-mounted snowblower. Increased hydraulic capacity gives operators the ability to lift a 1500lbs round bale and optional factory 3rd function hydraulics gives users a wider selection of attachments to choose from like a hydraulic angle blade or rear-mounted stump grinder. These tractors offer property owners with large project list, owners of hobby farms, or those in the landscaping business a versatile do-it-all compact tractor.
"The 3 series offers customers a ton of different options to meet a variety of different needs. Whether you're looking for something simple and economical or looking for something with premium features, the 3 series has it all. "
Eric Schreurs Midwest Machinery Sales Member St. Cloud, MN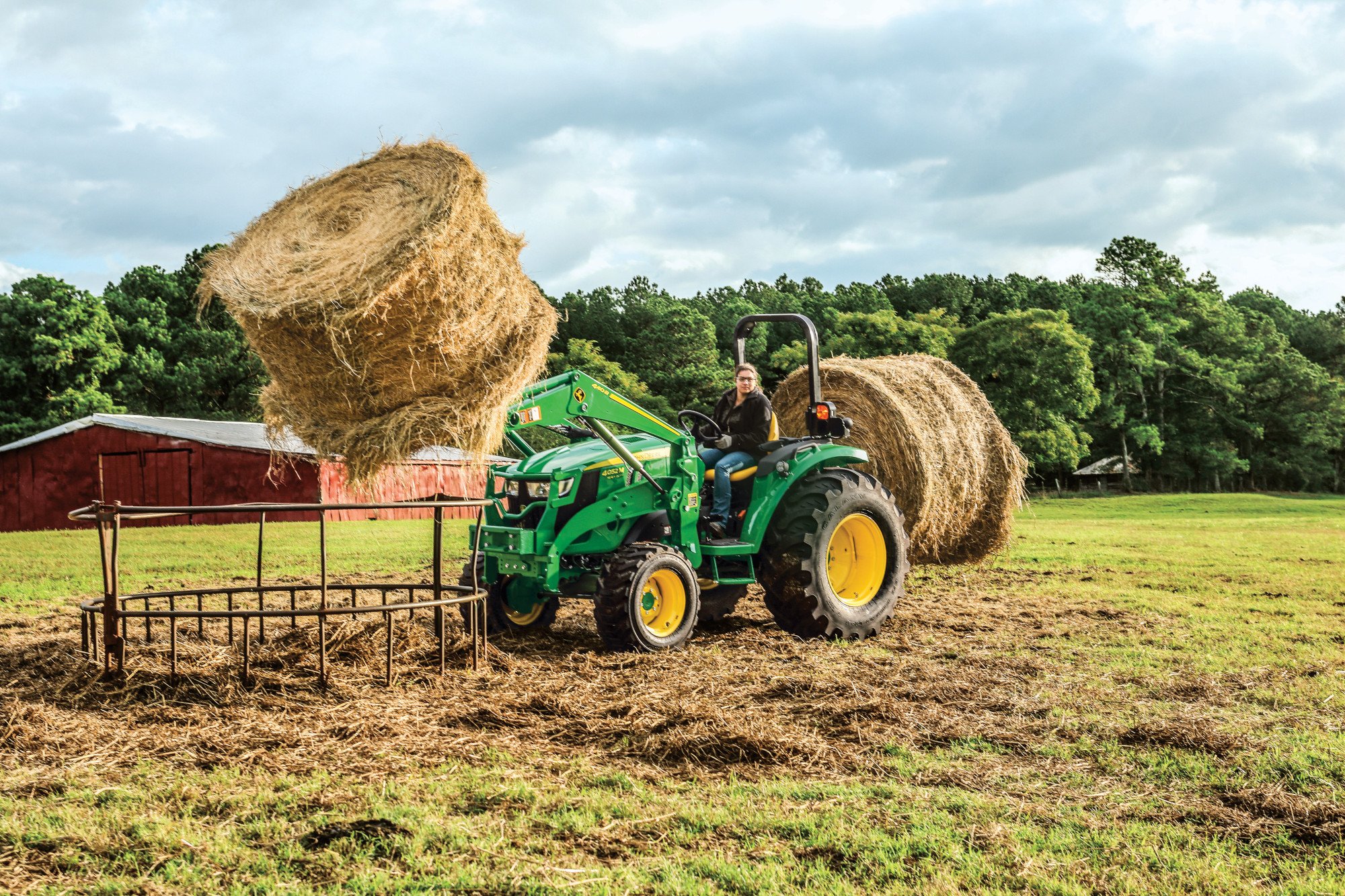 The 4M and 4R are the largest of John Deere's Compact Utility Tractor line up ranging from 43HP-66HP. These tractors provide operators with the power needed to complete more unique jobs like running hay implements, lifting a full 275-gallon water tote for your livestock, or unloading pallets of brick off a trailer.
Key Features and of the 4M and 4R:
-The 4M series are available in three models 4044M, 4052M, and 4066M. They offer a comfortable open operator station which provides the best visibility for using the loader. Its large open design allows operators for easy entry and exit from the tractor. Designed with strength and simplicity in mind Landscape yards, recreational properties and farms are a great fit for 4M tractors.
The 4M offers a heavy-duty package designed to fit in small working areas like barns, stalls, and poultry houses. Standard features on the 4M heavy-duty tractors include an upgraded lighting package, a shorter wheelbase for maneuverability, a category I/II 3-point hitch to run a variety of implements and telescoping draft arms for easier implement hook up. These tractors are made for maneuverability in tight areas without sacrificing power.
The 4R Series is the pinnacle of the John Deere compact utility tractor lineup. The 4044R, 4052R, and 4066R have the best of just about everything. Available with either a superior open operator station or with a deluxe factory install cab that offers heat, AC, radio, and an air ride seat. Completely sealed and pressurized making the cab extremely quiet and secure in any working environment. When combined with the optional downforce kit they are great for pulling a disk through hard compacted soil and ideal for pulling small hay equipment for horse farms or loading and unloading material daily.
The 4R comes standard with Hitch Assist Control which allows you to hook up rear implements fast and easy. This gives the operator the ability to creep the tractor forward or backward to position the hitch and implement correctly, all while standing behind the machine and eliminates the need to go from seat to hitch to make sure your implement is lined upright.
"John Deere 4 Series Tractors are built for heavy-duty chores around your property. With economical models like the 4M and top of the line models available with the 4R, these tractors can handle any task you need them to."
Eric Schreurs Midwest Machinery Sales Member St. Cloud, MN
Interested in learning more about compact utility tractor options? Visit one of our 17 Midwest Machinery locations and take a test drive or request a quote today.